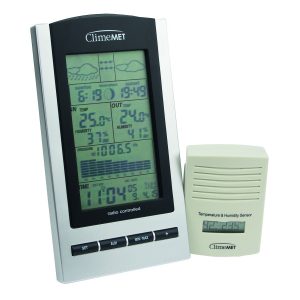 Welcome to our ClimeMET CM9088 Digital Wireless Weather Station review. Are you looking for a digital weather station for home use? A product that is easy to use, and is perfect if you happen to be a weather watcher.
If you are, then take a closer look at the ClimeMET CM9088 and decide for yourself if this weather station is for you.
We will walk you through all the best features of the product, and the benefits of using this device in your own home.
We also discuss the pros and cons and what people are saying that have already purchased the CM9088. This is an ideal choice if you enjoy gardening, astronomy, angling or fishing is a favorite hobby or pastime.
Or if you happen to be an enthusiastic weather watcher, and you want the latest updates in real time. This one is for you.
If you are in a hurry, you can click here to go straight through to Amazon to see the ClimeMET CM9088, get the full details about this and see what people are saying…
ClimeMET CM9088 Digital Wireless Weather Station:
What Is It?
The ClimeMET CM9088 Digital Weather Station is one of those products that is easy to set up and use. Easy to install in your home, straight out of the box.
Can be set up to measure accurately both indoor and outdoor temperatures and humidity. Sunrise and sunset times including moon phase will also be taken care of. Store your very own minimum and maximum temperature records over time.
Be able to set up weather alarms to alert you to various weather conditions as they happen periodically. Updated features are now included when you purchase the ClimeMET CM9088 Digital Weather Station.
What Are The Best Features:
New Sunrise And Sunset Times Feature
Graphical Moon Phase Display
Wireless Indoor And Outdoor Temp / Humidity
Records Max & Min Temperatures / Humidity
24-hr Barometric Pressure Graph & History
Forecast Icons – Sunny, Partly Cloudy, Cloudy and Rainy
DFC Radio Controlled Clock / Time & Date
Time Alarm + Snooze
LED Back-light
Wall Hanging or Free standing
100 Metre Transmission Range
Specifications:
 Temperature> Console range: 0°C to 60°C. Sensor range:-40°C to +65°C. Resolution:0.1°C. Accuracy: +/-1.0 °C.
 Humidity> Console range:1%RH~99%RH. Sensor range: 20%RH~95%RH. Accuracy:+/-5% under 0-45°C.
Air pressure range: 700hPa-100hPa. Resolution: 0.1hPa. Accuracy: 1.5 hPA.
Console: 3 x AA, CM9-TH Sensor: 2 x AAA (Batteries Not included).
Console: 185 x 100 x 35 mm. Sensor: 91 x 70 x 32.5 mm.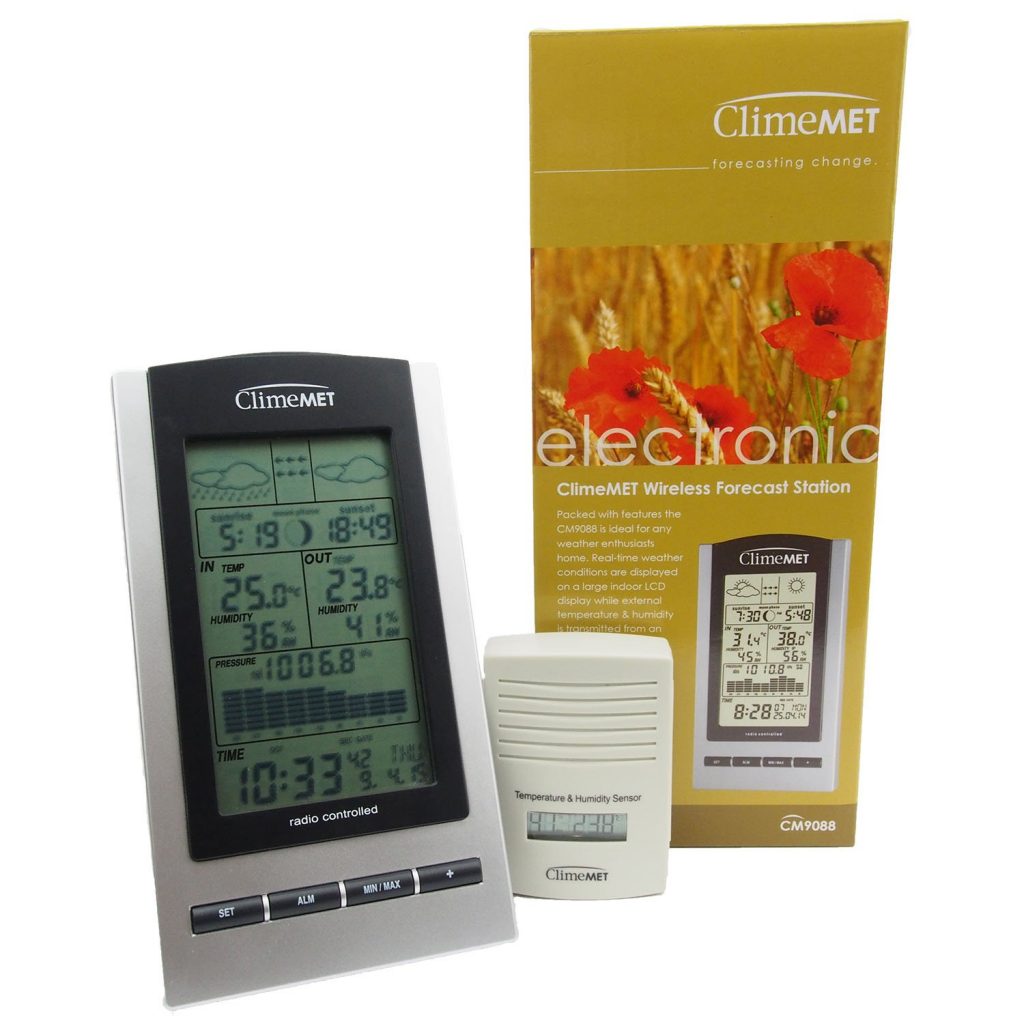 ClimeMET CM9088 Digital Weather Station:
What Are The Benefits?
Once set up and activated, the ClimeMET CM9088 will provide real time weather data 24 hours a day, every day.
That includes high and low indoor and outdoor temperatures, humidity readings, sunrise and sunset times and accurate moon phases all displayed clearly on a panel measuring 185 x 100 x 35 mm.
This is an advanced desktop weather station, and it is a very popular model with customers who have already made a purchase. It has a range of 100 metres or 330 feet after initial setup and activation.
Click here to read the customer reviews on Amazon and see all the product details and more….
You to can get the full benefit of having this ClimeMET CM9088 wireless forecast station set up and activated in your home with ease. Comes with full setup instructions supplied by the manufacturer with your purchase.
Can even use the ClimeMET forecast station as an alarm clock with a snooze feature, in place of your normal alarm clock. This is a very affordable weather recording device, and competes well with other brands and manufacturers in this price bracket and higher.
Has DCF-1 Radio controlled time & date with a manual setting function and updates automatically for daylight saving time.
A low battery indicator is displayed on the top of the main display panel. You will know exactly how much power is in the batteries at all times.
So having read this far into our review, you can see that this product is a well featured data gathering device, that's perfect for home use 24 hours a day.
And you can set the ClimeMET up exactly how you want to just by following the manufacturer's instructions and setting up your own weather alerts in the settings menu.
What's In The Box?
A Weather Console
A Remote Sensor With Mounting Bracket
Full Instruction Manual
Pros:
The CM9088 is a very easy to set up weather forecast station. Upon setup, you simply enter your location's longitude and the latitude in order to get accurate information, that is unique to your particular location.
Receive accurate weather readings 24 hrs a day and see the data displayed on the main console. This product is very affordably priced and competes well with other brands in the marketplace.
It's feature packed considering the low price point, and the real benefit of using this weather station in your home is you get regular electronic updates over the air.
Cons:
The main display unit could be brighter to allow for easier reading of the data. Small percentage of customer's have expressed their disappointment after purchasing. But there are so many more happy customer's who made a purchase and continue to use their ClimeMET CM9088 even to this day.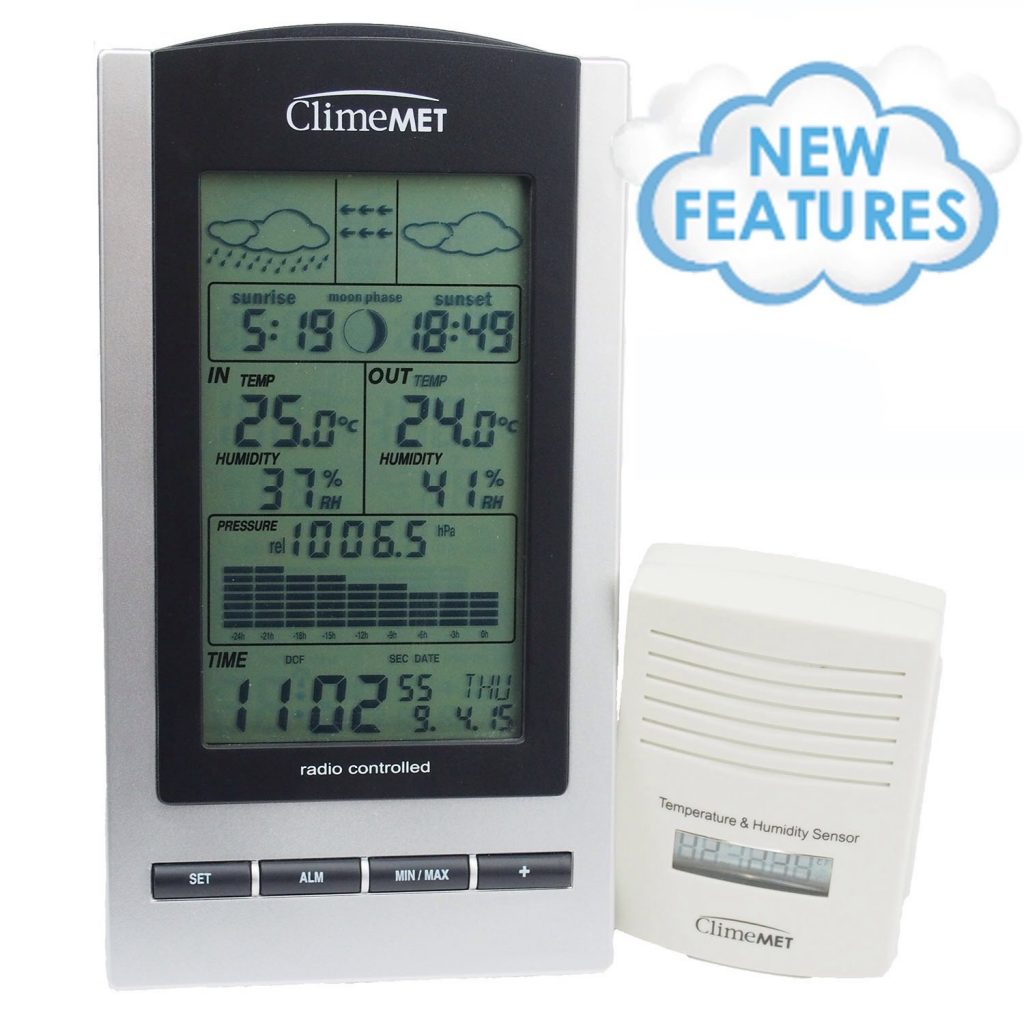 Our Verdict:
We say that this is a brilliant weather station for the price. It is a feature packed product and the amount of data it will gather for you is amazing. You will find this particular model in the series very easy to set up and use. Most of the happy customer's on Amazon agree to this and have left hundreds of reviews…. 
We recommend the ClimeMET CM9088 Digital Wireless Weather Station to you today as a product that will provide all the weather data you need.
And once activated will continue to perform in the manner in which it was designed by the manufacturer's. That being to bring you the most accurate weather data possible, for your home environment.
This is an impressive data gathering device for the money. It's affordable, and you can experiment with this product to, if it's your first time as an enthusiastic weather watcher, from home.
Click here to buy the ClimeMET CM9088 Digital Wireless Weather Station on Amazon and get superfast delivery…
Give it a go and see if it's right for you.
Thanks for reading our ClimeMET CM9088 Digital Wireless Weather Station review.