So you want to know "What Are The Top Weather Stations To Buy In 2020?"
Are you looking for a top performing weather station for home use, right now? A product that will be easy to setup.
Will give accurate results, such as high and low temperatures. Both inside and outside your home. Also wind speed and wind direction, humidity, rainfall and wind chill.
And is capable of recording valuable data for 365 days a year, once the device has been setup and activated?
Well, we have a list of the best performing weather stations for you, on this page. All you have to do is decide which one is the most suitable for your particular situation, or area in which you live?
There are products listed here designed and manufactured by the best in the business. These manufacturer's are constantly improving their designs, to enable more accurate weather forecasting, from home.
All the brands we have listed for you here today are capable of giving accurate weather data results. Prices also vary between the brands. Nothing unusual about that. And exactly how easy they are to set up, and activate will also differ between each manufacturer.
Our Most Popular Choices Of Weather Stations For Home Use In 2020:
Ambient Weather WS-2902A Smart WiFi Weather Station
The WS-2902A is a 10-in-1 smart weather station with wifi capabilities. This sophisticated weather recording device will be the only product you will ever need to bring you accurate weather data for home use. This really has all the bells and whistles necessary, as you can see in our report.
It will record high and low temperatures, both inside your home and outside after you have setup and activated it. The display panel is a good size at 7.5 x 0.8 x 4.5 inches. Is a colourful display and easy to read after setup. Will also record outdoor wind speed, wind direction, rainfall, UV levels and solar radiation etc.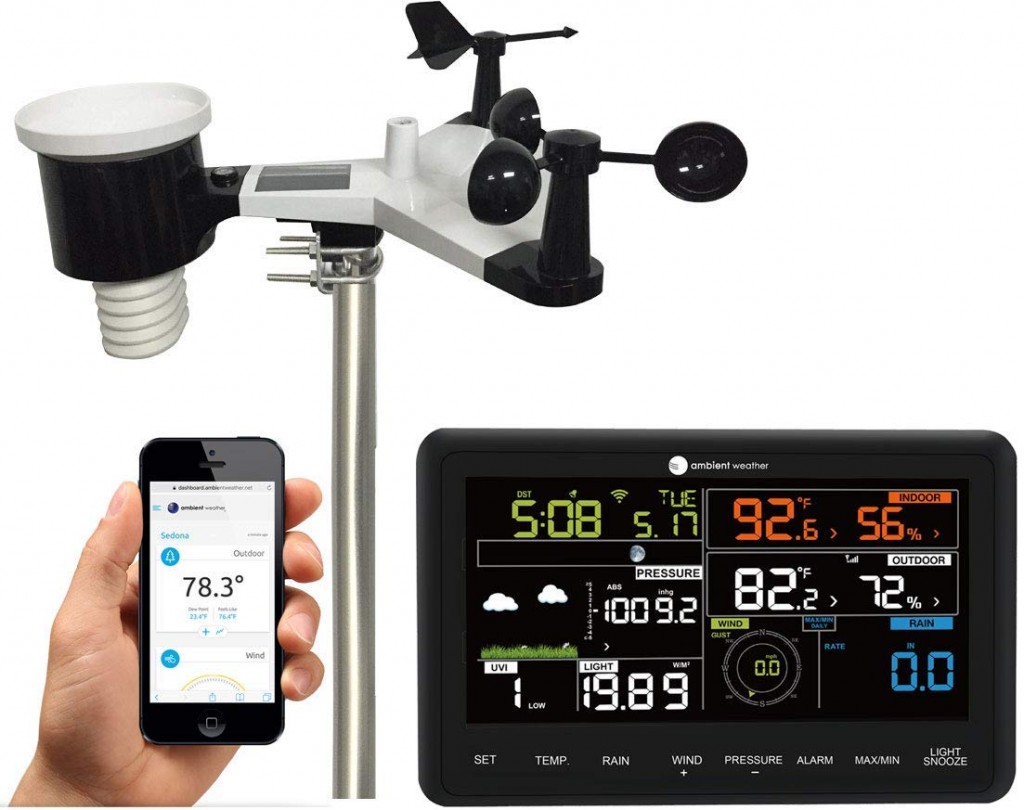 Indoor humidity with high and low temperatures, including barometer inside the console. The device also calculates dew point, wind chill and heat index. As you can see this is a very capable product and a very popular brand.
It's easy to moderate to set up. Set up requires iOS or an Android device. View real time weather conditions and data, including alerts set up by you, whilst on the move, with your smartphone. And see that data also display on a tablet and desktop computer.
Connect to the Ambient Weather Network. Send and receive real time weather data 365 days of the year. Up to the minute with email and text alerts. Compatible with Alexa and works with Google Assistant. Stream real time weather data to Wunderground every 16 seconds using the Ospreys Outdoor Sensor.
Read our full review of the Ambient Weather WS-2902A Smart WiFi Weather Station by clicking here….
Top Weather Stations To Buy For 2020
Youshiko YC9386

Professional 5-in-1

Weather Station 
The Youshiko YC9386 is a professional 5-in-1 weather station is our second choice and is a very popular model with weather watchers. This product has a 4.3 star rating on Amazon. And people who are enthusiastic about recording weather data at home continue to buy this very capable device. And for very good reason.
It continues to perform well and does exactly as it say's on the tin, after the initial setup and activation.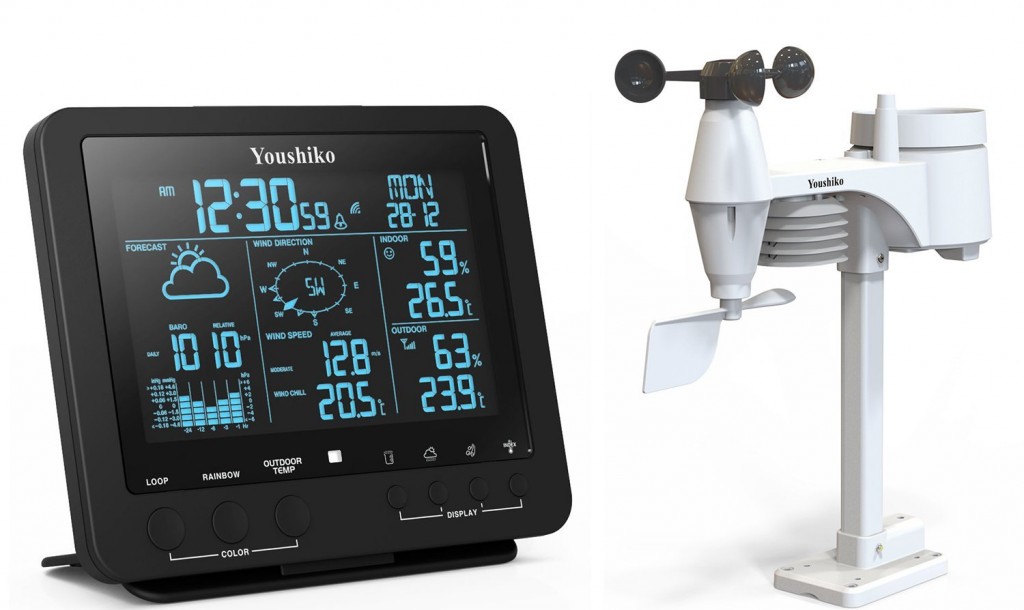 Records the latest weather data such as wind speed, wind direction, high and low temperatures indoors and outdoors. Heat index, dew point and wind chill. Rainfall amounts and totals are recorded along with humidity inside and outdoors 365 day of the year.
The Youshiko YC9386 is very easy to setup out of the box. Full setup instructions are included with purchase. Synchronization is quick and multiple sensors can be used with this particular model. Has 3 color changing modes to choose from. Very colorful, easy to read display panel shows all the latest weather data, for the day.
Outdoor sensor comes with full instructions for setup and activation. And all mounting accessories provided. The transmission range between the outdoor sensor and the main display unit, placed inside your home, is 450 feet.
The main display unit can be wall mounted, or placed on a shelf or desktop. Gives barometric pressure readings using a bar graph display. Has a low battery notification for the outdoor sensor and main display panel.
Read our full review of the Youshiko YC9386 5 In 1 Pro Weather Station by clicking here…. 
Top Weather Stations To Buy 2020
La Crosse Technology C85845 Color Wireless Forecast Station
The La Crosse Technology C85845 Wireless Forecast Station is our third choice. And for very good reason. This is a wireless, color weather station that records real time weather data, from your own backyard. With animated color forecast data on the display.
Monitors temperature trends with high and low alert settings. Records high and low temperatures and humidity both indoors and outdoors. Collect all this important data, and read it easily on a colorful display, with adjustable brightness.
Heat index and dew point is recorded. Get full barometric calibration within a matter of days for your location.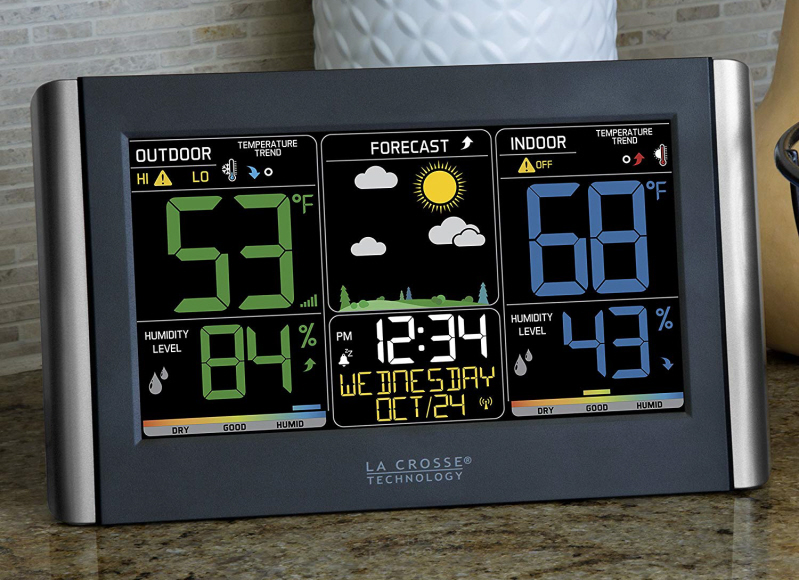 The La Crosse C85845 Weather Station is rated 4 stars out of 5 on Amazon. With many customer's saying how easy it is to setup and install, straight out of the box. And this particular model is very easy to use, from day one.
Display unit can be wall mounted or placed on a shelf or tabletop. Where the latest weather data coming in can be seen and recorded.
Transmission range for the signal between outdoor sensor and main display unit is 300 feet. Position the outdoor sensor out of direct sunlight in a well-ventilated sheltered location. This will protect the sensor and help to bring in more accurate weather data for you.
The La Crosse C85845 is a very capable device to have in the home for recording accurate weather data. And the price point is more affordable in comparison to other brands, that are higher priced.
Read our full review of the La Crosse C85845 Forecast Station by clicking here….
Top Weather Stations To Buy 2020
Youshiko YC9360 Digital Weather Station Official UK Version
The Youshiko YC9360 Digital Weather Station is a top performing weather recording device with wireless capabilities. The UK version comes with a radio controlled clock. This radio controlled clock picks up the signal straight from Cumbria, where the transmitter is located, and gives you a totally accurate time and weather data.
The YC9360 has a 4.3 out of 5 star rating on Amazon and is a bestseller with many happy customer reviews to back it up. We wanted to take a closer look at this product and see what the benefits are for weather watchers at home? We are satisfied that this is a great product.
It's very affordable as prices go and is easy to setup and use and will record weather data for 365 days of the year.
The YC9360 measures max / min indoor and outdoor temperatures and humidity levels. Records sunrise, sunset, moonrise and moonset times with graphical moon phase display and barometric pressure. Measures weather trends and also features a frost (ice) alarm alert.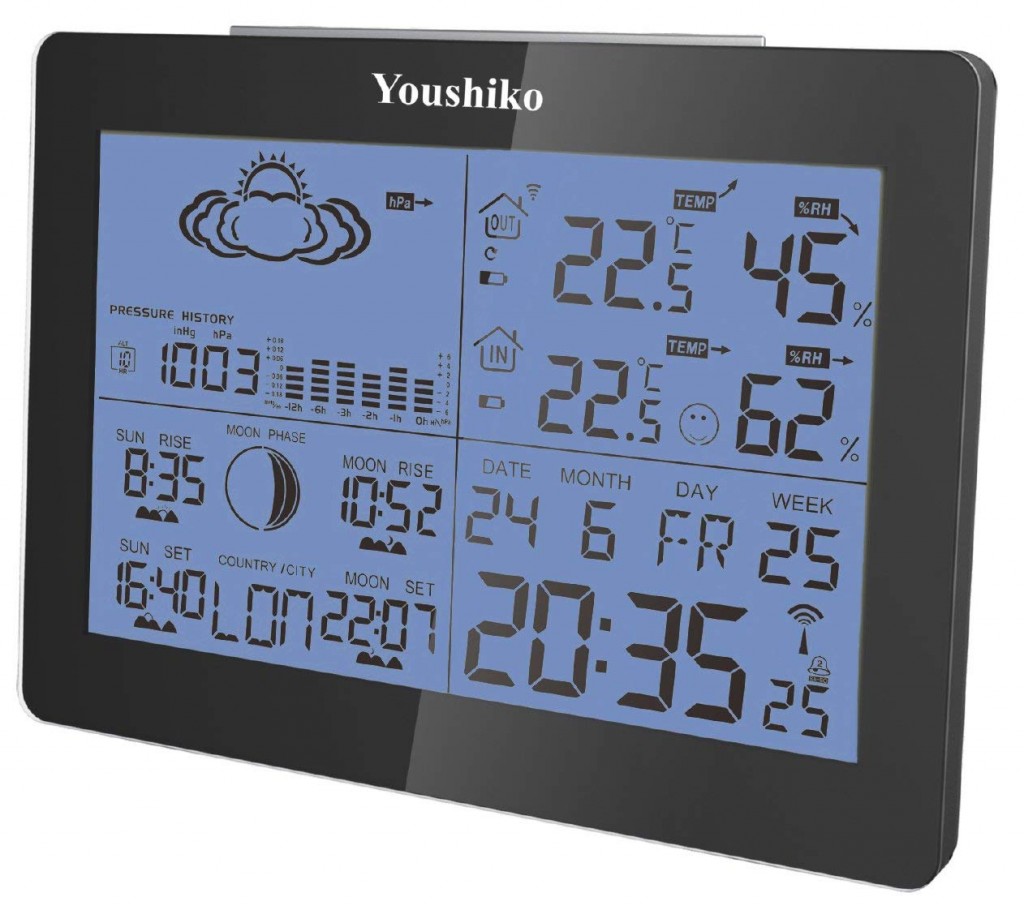 Records in centigrade and fahrenheit with a measuring range as follows: 0°C to +50°C / 32°F to 122°F) / out side: -20°C to +60°C / -4°F to 140°F and Humidity indicator (Measuring range: 20% to 90% RH)
Automatic time change for spring and autumn with precision time keeping feature. Dual alarm with a snooze setting. The main display unit has a blue LED backlight.
This YC9360 Digital Weather Station comes with a Swiss precision sensor with wireless capabilities. The sensor has a transmission range of 50 metres or 160 feet. Place the sensor outside in a sheltered position, whilst avoiding direct heavy rainfall exposure, and direct sunlight for more accurate weather readings.
You can use up to 3 separate sensors with the YC9360 Weather Station. These can be placed outdoors or indoors as your choice.
Extra Sensors For Youshiko YC9360 Wireless Weather Station – Click here to buy on Amazon…
Buy the Youshiko YC9360 Weather Station on Amazon and get superfast delivery….
Read our full review of the Youshiko YC9360 Weather Station by clicking here…