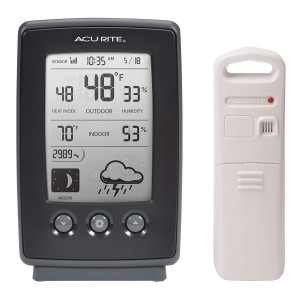 Welcome to our Acurite 00829 Digital Weather Station Review….
If you are wondering how to plan your day and are anxious about the weather changes, worry no more. The Acurite 00829 digital weather station has the perfect solution for you.
Our updated review for 2018 examines what this electronic weather station has to offer.
Not only is it the most convenient gadget for providing you with a personal weather forecast of up to twenty-four hours; but it also uses a Self-Calibrating technology and a wireless sensor for accurate weather measurements.
You can easily position the sensor; which has an inbuilt-thermometer outside your backyard to measure indoor and outdoor temperatures with accuracy and precision. The following features make up the Acurite weather station:
If you have landed on this page and you just want to buy the 00829 Digital Weather Station you can click here to check this out on Amazon….
Acurite 00829 Digital Weather Station Review
Best Features:
The main features include Self-Calibrating Forecasting technology, a Sensor collecting data monitor, a system that gives you 24-hour weather forecasting and many other features.
Generate a weather report right from your own back yard. By using the accompanying sensor which is easy to set up. Get accurate weather data for your exact location once activated.
Self-Calibrating Technology:
Through technology, the station offers the latest methods of weather forecasting. The advantage of this feature is that you enjoy a localized weather observation. This is accurate and reliable as per your exact location.
The technology uses a unique algorithm. One that analyzes pressure and temperature changes for over 14 days, to determine your precise altitude.


When the measured changes in barometric pressure become localized, for ascertaining your weather, it provides a reliable method for determining future weather predictions. This technology makes the Acurite 00829 station reliably accurate and ensures a smooth installation process.
Sensor-Data Monitor:
A unique feature of the Acurite 00829 Digital Weather Station is its precision. Unlike weather forecasts from sources such as the television news. The station collects data from your backyard, through the sensor monitor.
The sensor can track specific sets of weather and related variables including humidity, barometric pressure and changes in temperature.
Acurite 00829 Digital Weather Station Review
The resulting data is accurate and personalized to your exact location. The sensor is very easy to install. And operates as a wireless monitor, in a compact-size design.
It has integrated mounting options, and it is weather-resistant. It also has the capability of working down to -40 degrees. And the device can transmit readings up to 100 feet away.
Temperature and Humidity Features:
Your current indoor and outdoor weather measurement is shown by a trend arrow. This indicates the mode of the trending in the readings over a period. Both high and low records will display the measurements recorded in a 24-hour period.
Buyers of this Acurite 00829 Weather Station can expect the following advantages:
Records of indoor and Outdoor Temperature
Accurate measurements of indoor and outdoor humidity
Moon Phase
Barometric pressure
Intelli-Time Clock and Date
Choice of a tabletop or mountable design
Automatic adjustments provide daylight records and save time for re-adjustments.
Acurite 00829 Digital Weather Station Review
Verdict:
This digital weather station is undoubtedly one of the best to buy online…check the customer reviews on Amazon…
Offering quality at an affordable price. Featuring the latest advanced technology. And with our verdict, based on the many current reviews from buyers…. this weather station is one of the very best on the market.


Buyers can purchase it on Amazon for the best price. What's more is that the station comes with a product warranty from the sellers and an operational manual booklet.
Click here to buy the 00829 Digital Weather Station at Amazon.com and get superfast delivery…