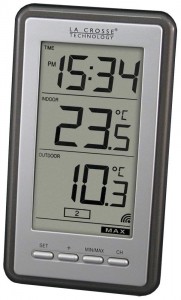 On this page we are going to be talking about the La Crosse Technology WS-9160U-IT-INT Digital Thermometer. Because getting a thermometer/weather station sounds like an easy task, but there are many options to choose from, out there in the marketplace.
Especially if this is your first time. Because, believe it or not, the variety of products to choose from can make the task way more difficult, and time-consuming, than maybe you had expected.
Different displays and frequencies, cabled vs wireless, different price ranges… So where does the La Crosse Technology WS-9160U-IT-INT Digital Thermometer stand against the competition? What can or can't you expect from the device? So here goes a current and detailed review of the product.
How Good Is It Compared To The Competition?
First and foremost, you can expect it to work well, but to get it working with no problems you need to follow all directions strictly. The directions may be a touch difficult to follow, so I'd recommend that you read a few reviews and watch two or three videos before getting it installed for the first time.
You can rely on its accuracy, which is definitely a plus. And if you need it, you can set it to show the temperature in Celsius. Also, it does not have complicated graphs or numbers you don't need. Just the time and temperature.
However, you will probably want a bit more out of your thermometer than just having it work well, and it is understood that a thermometer is supposed to be accurate. So let's discuss some key features below.
La Crosse Technology WS-9160U-IT-INT Digital Thermometer
Key Features:
1 – It is wireless. You don't depend on having an outlet where you need the display or the sensor. Just use it anywhere within the range, which is up to 330 ft. It has a pretty extensive range and you can rely on it to display the temperature provided there are no objects obstructing the signal.
2 – It can receive and display signals from up to three sensors. This comes in handy if you are intending to have indoor and outdoor sensors. It comes with one remote, so if you want another one you have to buy it separately. Make sure you buy a 915 Mhz remote sensor, though.
3 – Its display is clear and user-friendly. You don't have any confusing information. The numbers on the display are large and clear and it is just the right size—not too big, not too small.
4 – Temperature Recording. Records daily high and low temperatures for you indoors and outdoors in Fahrenheit or Celsius.
La Crosse Technology WS-9160U-IT-INT Digital Thermometer
How Is This Weather Station Powered?
This product/receiver uses 2 AAA batteries to power it up and provide daily temperature readings for you. They are not included in the package when you buy the product.
The sensor also requires 2 AA batteries to power it… these are also not included when you make a purchase.
We suggest using Lithium quality batteries for better and more accurate temperature readings. And lithium batteries last a lot longer in use.
Pros:
Easy Viewing With Large Digital Display
Low Battery Indicator
Min/Max Temperature Record
3 Channels For Optional Sensors
12 / 24 Hour Time Display
Indoor And Outdoor Temperature (F/C)
Can Be Used With 3 Sensors At The Same Time
Cons:
No AC Power Supply Option
Has Limited Functionality
Should You Buy One For Home Use?
We think that this La Crosse WS-9160U Digital Thermometer is ideal for home use and is easy to set up. Once activated will provide you with daily indoor and outdoor temperatures. The highs and the lows… all is recorded for you.
La Crosse Technology WS-9160U-IT-INT Digital Thermometer
Our Verdict:
The La Crosse Technology WS-9160U-IT-INT Digital Thermometer is definitely a great product and worth the price.
The only important downside seems to be that the directions can be complicated to follow during setup, for some users. And failing to do so can result in the product not working properly, until you find out what the mistake is and you correct it.
But once you get it working you can expect it to have a long life. Another plus is that you do not need to change the batteries very often. We recommend Lithium batteries for long term use and power.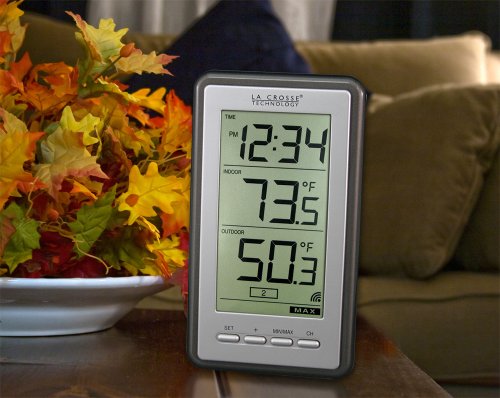 So, in short, it has a lot of virtues: it works well and it is accurate. It is wireless and you can use three different sensors with it. If you want all three, you just have to buy two additional remote sensors. But you don't have to if you are happy with one.
The information you get is just what you need. We definitely recommend buying one if you are looking for a digital thermometer/weather station for recording both outdoor and indoor temperatures etc.
If you want to make a purchase of the La Crosse Technology WS-9160U-IT-INT Digital Thermometer you can click this link and it will take you straight through to Amazon.Com
Click here for pdf instruction manual from La Crosse Technology for the WS-9160U-IT-INT Digital Thermometer.