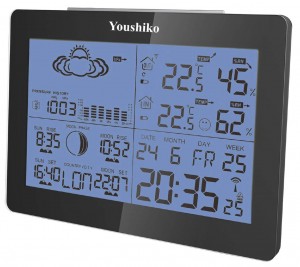 In writing this post we have been taking a very close look at the Youshiko YC9360 Weather Station. And we have now listed all the best features of the product below, for you to see. And we have also listed the real benefits you get from using this product, in your home environment.
We have listed the pros and cons of this product to, and we reveal how easy it is to set up and activate, in your home.
The Youshiko YC9360 is a very popular weather station. And it is a feature packed product with many happy customer reviews to back it up.
If you are in a hurry and you want to see the Youshiko YC9360 Weather Station you can click here and go straight to Amazon and read all the customer feedback and ratings….
Youshiko YC9360 Weather Station Review
What Are The Main Features?
Full Weather Forecast With Display Of Weather Trends And Frost / Ice Alarm Function

Radio Controlled Clock ( UK Version ) Automatic Time Change For Spring / Autumn etc

Automatic Time Checks. 12/24 h Time Display

Display Outdoor And Indoor Temperature 

Humidity With Min /Max Display

Led Blue Backlight Display

Sunrise / Sunset / Moonrise/ Moonset Times With Graphical Moon Phase Display

Barometric Pressure Reading

3 Sensors Can Be Displayed For 3 Different Locations Outdoor Or Indoor Of Your Choice

Dual Alarm With Snooze Function
Low Battery Indicator
What's In The Package?
A  YC9360 Weather Station
A  YC9315 Wireless Sensor
An Instruction Book / Guide
What Is The Temperature Range?
The measuring range inside your home is: 0°C to +50°C / 32°F to 122°F) / outside is: -20°C to +60°C / -4°F to 140°F and Humidity indicator (Measuring range is: 20% to 90% RH)
Where Does The Signal Come From?
The radio controlled clock picks up the signal straight from Cumbria – The UK transmitter and this gives you daily accurate time readings.
How Many Sensors Does It Use?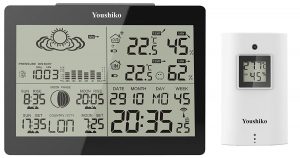 The Youshiko YC9360 Weather Station comes delivered in a package with one sensor. Has a weather proof casing. Please mount this sensor outside in a sheltered place, to avoid direct heavy rain and direct sunshine, for best results & data readings indoors.
It's a Swiss precision wireless sensor which is placed up to 50 metres or 160 feet from the main display unit placed indoors.
A maximum of 3 sensors can be used with the YC9360 Station. You can locate these within range of the main display unit outdoors or indoors.
Youshiko YC9360 Weather Station Review
Where To Buy More Sensors?
You can purchase Youshiko YC9315 Wireless Temperature & Humidity Sensors for the YC9360 here and get super fast delivery….
How Easy Is The Youshiko YC9360 To Set Up?
This YC9360 Weather Station is affordable, with a low price point compared to other brand competitors. It is also very easy to set up and activate, for home use. In a matter of minutes this product can be up and running with the minimum of fuss. Full instructions are provided within the package upon delivery.
So many customer's have already given feedback on this product and they have said it is very easy to setup and use.
The main display unit can be placed on a desktop or shelf for easy access. And provides a multitude of weather readings for the home user.
Youshiko YC9360 Weather Station Main Display Unit?
The Size of the main display unit is 107 x 146 x 44 mm (H x L x W). The Wireless Sensor size is 98 x 60 x 24 mm (H x L x W).
What Batteries Does It Use? 
The battery types used are: Main display unit: AA x 2 pcs (Not included) / Sensor: AAA x 2 pcs (Not included). Batteries are not included in the package when purchased.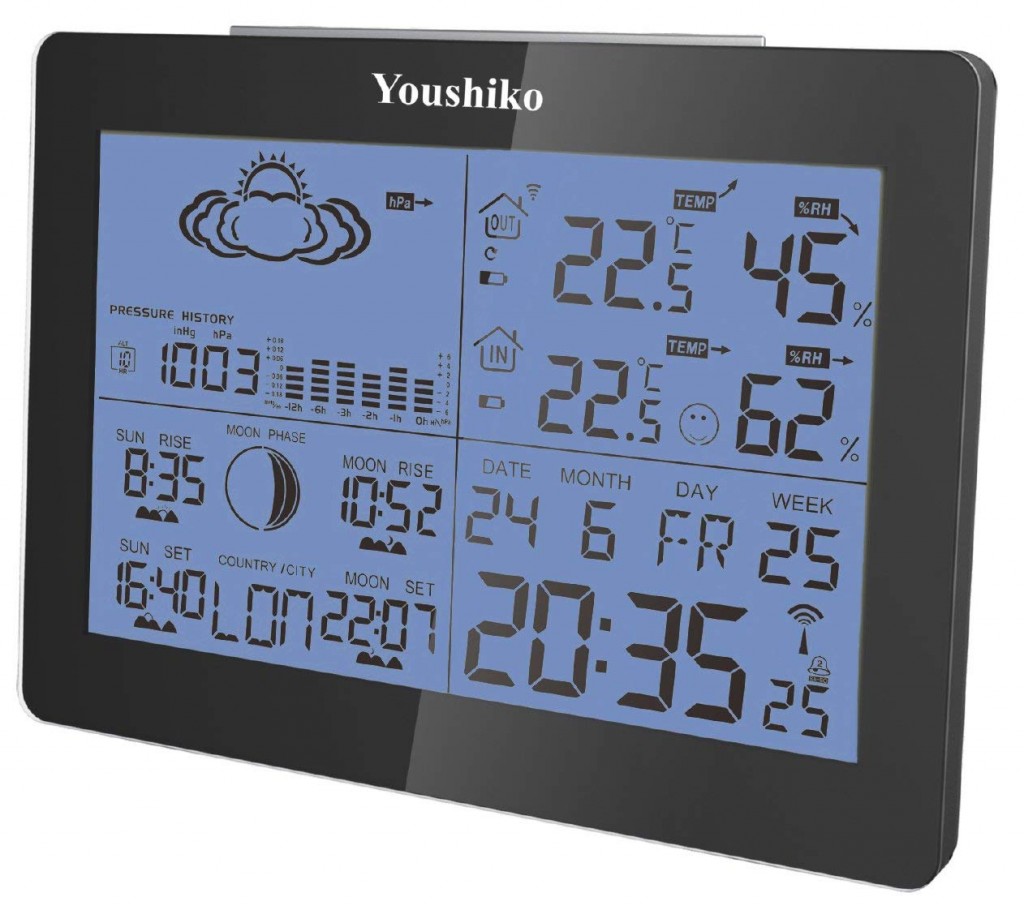 Pros?
The Youshiko YC9360 Weather Station is a capable data gathering device for home use. Once set up and activated it will provide a multitude of readings for any enthusiastic weather watcher. Record sunset times and sunrise.
Moon phases are recorded and is shown on the main display unit. High and low accurate daytime temperatures are displayed for indoors and outdoors. Display unit has a low battery indicator which is a very useful feature.
One glance at this colorful display will show all the weather data you need day or night-time, after the initial setup.
We also like the attractive blue LED back-light feature and the display panel is very easy to read and use.
Cons?  
Some user's have mentioned that the viewing angle might seem narrow, depending on where the main display unit is placed?
You should place the main unit display on a desktop or shelf, where it can be seen and the data is easily readable.
Youshiko YC9360 Digital Weather Station Review
Verdict?
If you are looking for a very capable weather station for home use, that is affordable and easy to set up and use, this  Youshiko YC9360 Weather Station fits the bill. As a user friendly data gathering device this product will measure temperature, humidity levels and give barometric pressure readings.
Data transmission operates in the 433 MHz range…. And 2 more sensors can be activated and used with the YC9360.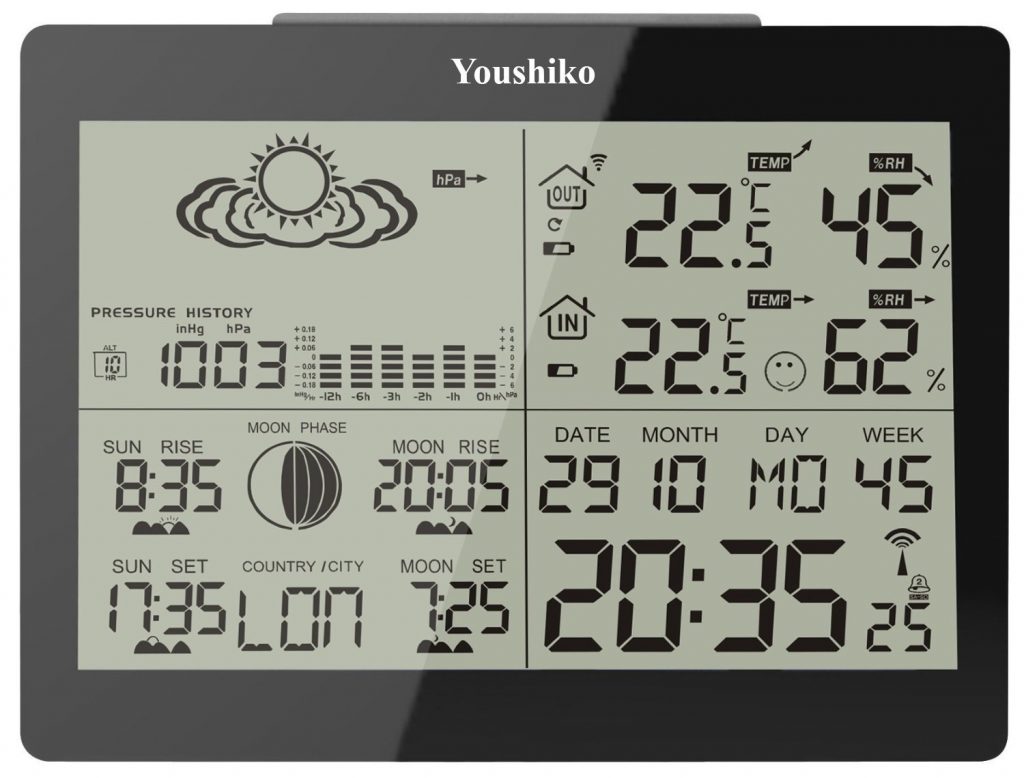 It's feature packed at a very low price point. It is a great product to use for a first time weather station user. Or someone who is just starting out to use a weather station at home.
This YC9360 Weather Station is a breeze to set up, for a beginner. A full instructions guide is supplied inside the package. Easy to follow setup is the general feedback from people who have purchased here on Amazon….
Click here to buy the Youshiko YC9360 Digital Weather Station on Amazon and get super-fast delivery…
If you are looking for a professional weather station for home use, see our review here of the Youshiko YC9386 Professional 5-In-1 Weather Station…