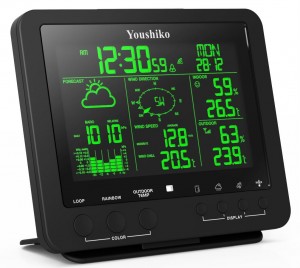 Today we will be taking a much closer look at a very popular product that's perfect for all weather watchers. Whether you are a beginner at this game or even if you are experienced at it?
It is the Youshiko YC9386 Professional 5-In-1 Weather Station.
We have listed here on this page the best features of the product. The pros and cons, and why this is such a popular weather recording device, for home use.
There are many 4 and 5 star customer reviews on Amazon that testify to this products ability to accurately record all sorts of weather data. And provide that data to you easily with an easy to read colourful display.
If you want to read the happy customer reviews of the Youshiko YC9386 on Amazon click this link and it will take you straight through to the product page….
The Youshiko YC9386 is a professional device for recording accurate weather data for you in your home environment. It is a bit more pricey. Especially when compared to lower quality products that compete for your money.
If you are looking for a really nice, professional weather station, that is affordable. Is also super easy to set up. Will give accurate weather data, wirelessly. This Youshiko YC9386 gets our full approval this early in our product review.
Youshiko YC9386 Professional 5-In-1 Weather Station
What Are The Best Features?
Large Clear Colour Changing Display – Its 168 x 24 x 136 mm In Size And Easy To Read
Radio Controlled Clock – Displays Date And Weekday
Weather Forecast – Sunny, Partially Cloudy, Cloudy, Rainy, Stormy, Snowfall
3 Colour Changing Modes
5-in-1 Weather Sensor – Wind speed, Wind direction, Rainfall, Temperature & Humidity etc
Whats In The Box?
1. Weather Station Base Unit
1. 5-in-1 Sensor With Mounting Accessories
1. UK Power Supply Adaptor
1. CR2032 Battery For Backup Clock
1. Instruction Manual
How Easy Is It To Set Up?
The Youshiko YC9386 is very easy to setup for anyone straight out of the box. And changing the batteries is quick and straight forward. As soon as the batteries are inserted in the main display unit, it will easily communicate with the outdoor sensor.
Youshiko YC9386 Professional 5-In-1 Weather Station
Synchronisation is fast and more than one sensor can be used with this professional weather station. So you are not limited to using only one sensor compared to a lower priced product.
What Batteries Does It Use?
To power the main display unit you will need AA batteries. We advise using lithium batteries as these are higher quality and will give you more accurate weather data recordings. They perform much better day to day than cheaper batteries.
The main display unit has a DC 4.5V 300mA UK mains power adaptor in the package. Use this to power it up indoors and a CR2032 Lithium 3 Volt Battery just in case of a power cut or shortage.
The Main Display Unit:
The display unit can be viewed in a multitude of colours. And with large digits it is super easy to read the data that comes in from the outdoor sensor. Or multiple sensors if you use more than one.
Sensor Information:
The sensor size is 343.5 x 136 x 393.5 mm (L x W x H). The transmission range of the signal between the main unit and sensors is up to 150m (450 ft), powered with batteries: Three AA batteries are needed. Which are not included in the main package.
What Data Is Displayed On The Main Unit?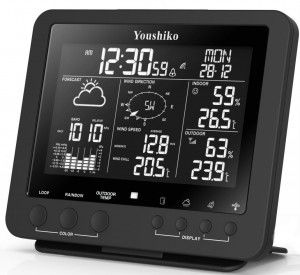 The Youshiko YC9386 Professional 5-In-1 Weather Station is a fully featured data gathering device for home use. It will display the exact time and date in large digits for easy reading. Maximum and minimum daily temperatures are recorded both indoors and outdoors.
It will show the humidity level in and around your home environment. Has high and low alert settings function. For both temperature and humidity. The 5-IN-1 weather sensor will show the wind speed and the direction. Rainfall is shown and temperature & humidity.
Youshiko YC9386 Professional 5-In-1 Weather Station
All this data is gathered and shown on the main display unit. Gives barometric pressure readings in a bar chart display. Has a low battery indicator for the sensor and main unit display.
So you will know when the batteries need your full attention and may possibly need replacing?
The main display unit is wall-mountable or can be placed on a desktop or stand for easy viewing indoors. Has an alert setting for wind & daily rainfall measurements with an LED indicator.
Pros?
This product is well-featured and has enough bells and whistles for a product at this price point. And it will easily provide more than enough data, for any enthusiastic weather watcher. Beginner or experienced.
Easy to read data display and colourful digits. Will provide you with accurate weather data, once the main setup is complete.
Buy the Youshiko YC9386 Professional Weather Station on Amazon and get superfast delivery….
This set up is easy to do out of the box for anyone following the instructions in the set up manual provided. A 5-IN-1 weather sensor to gather all that data. Will also synchronise with more than one sensor placed outdoors, in good locations.
Cons?
The higher price point may be a deciding factor when making a purchase decision? We think the Youshiko YC9386 is a higher quality product. This is reflected in the higher asking price for purchase.
And we are very happy with the customer reviews that we have read about this product on Amazon….
Youshiko YC9386 Professional 5-In-1 Weather Station Review
Verdict?
In our opinion the Youshiko YC9386 Professional Weather Station is a well-featured weather recording device. It is easy to setup and will give you accurate data provided by the outdoor sensor or sensors.
After the initial set up of the sensor, placed outdoors, the data comes in quick to the main display unit. Which is easy to read on the large coloured display. The sensor range for collecting weather data is up to 150m or 450 feet.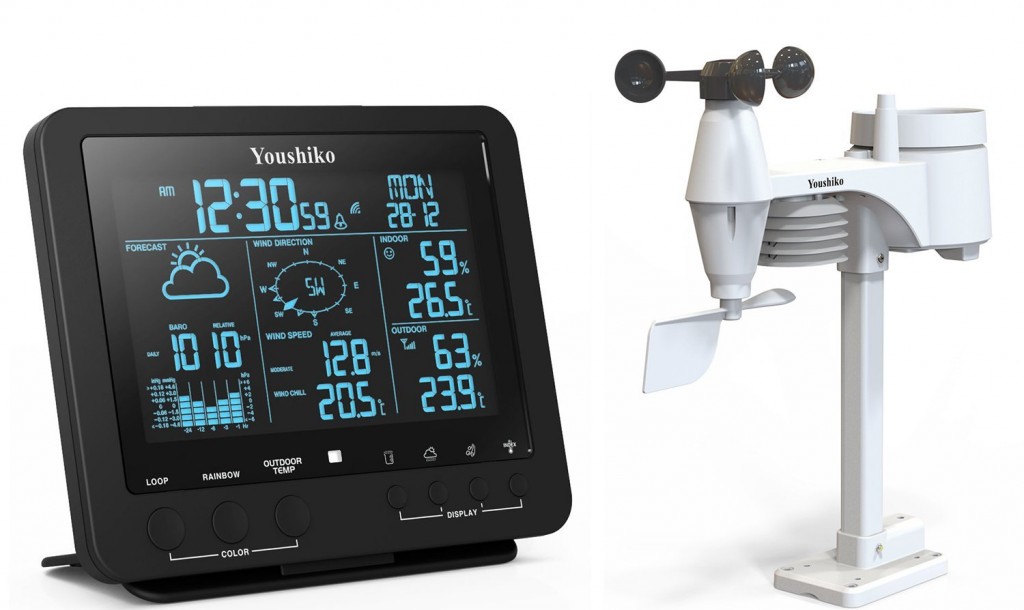 Which elevates this product into the professional category for weather stations, for home use. We highly recommend this product and it will provide anyone with accurate weather data.
Click here to buy the Youshiko YC9386 Professional Weather Station on Amazon for the best price today and get superfast delivery….