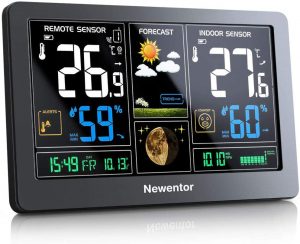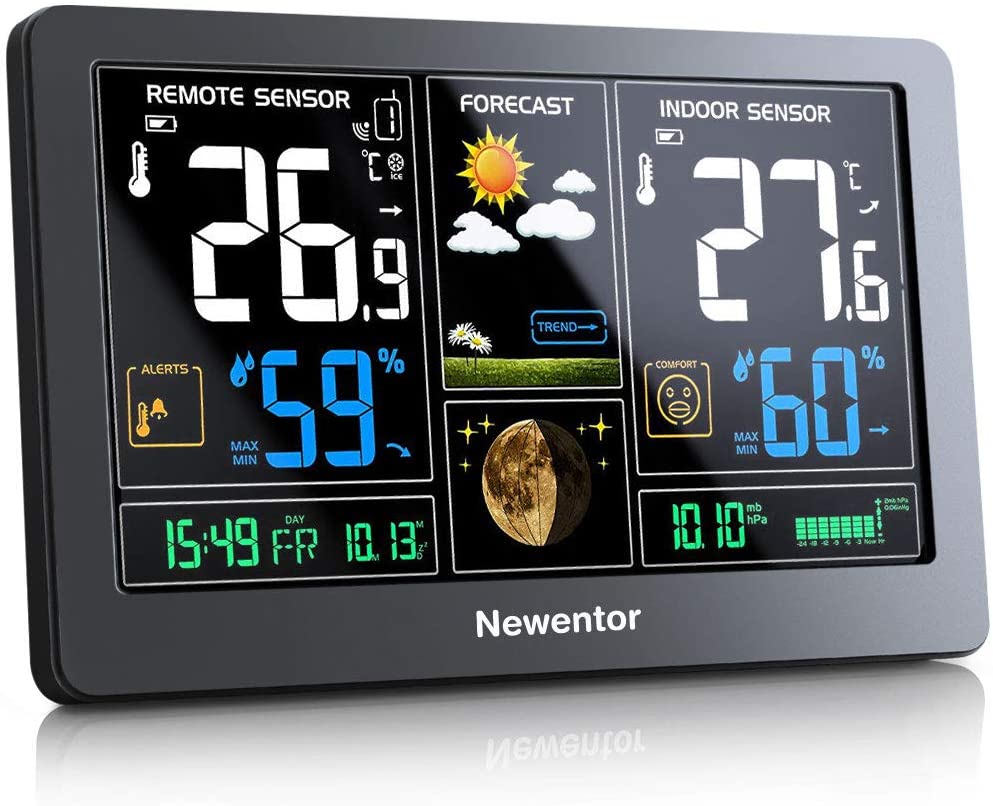 Hi…. and welcome to our Newentor Weather Station Q3WFISUK2 Review…
On this page we will be taking a closer look at a product that is perfect for weather watcher's. If you are enthusiastic about weather… or, if you happen to be a complete beginner, this product is for you.
If you are on the lookout for a low priced weather station that you can easily set up at home… this one is absolutely for you.
We have listed all the best features and benefits of the Newentor Weather Station. We have also listed all the pros of the product… and the cons.
The Q3WFISUK2 weather station has been gaining in popularity… it's one of the best seller products out there, in this category. So it continues to generate a lot of interest with weather watchers online and everywhere. It's also popular with a lot of people who take a more general interest in the weather.
And if you are in a hurry right now, and you just want to read the latest customer reviews on Amazon… you can click this link and it will take you straight to the product listings….
Or you can stay with us here… read our full review.. and find out if this easy to use wireless station is the right one for you? Is it possible that this product is the one you are looking for?
Read on to find out more…
Newentor Weather Station Q3WFISUK2 Review
What Is It?
It's a bestseller digital weather station that is perfect for home use. The product is easy to set up and has a colorful display which is easy to read. The display panel measurement is 8 inches x 5.11 inches x 1.1 inches
The main display unit can be powered in two ways. With a mains power adaptor (included in the box) and secondly by 2 AA batteries – which are not included in the box. The outdoor sensor unit is battery powered only.
The weight of the base unit is 521 grams or 1.15 pounds and it has an attractive backlight feature. You can wall mount the base unit. Or you can place it on a desktop or shelf… and take daily temperature readings on autopilot.
Best Features
Large LCD Colorful Display Screen – measuring 20 cm x 3 cm x 13 cm with easy to read max/min indoor and outdoor temperatures, humidity, date and time, barometric pressure, alarm, and temp alert feature
3 Channel Temp / Humidity – the Newentor weather station is capable of collecting data using up to 3 sensors placed within 60 metres or 200 feet of the base unit
2 Modes For Displaying Indoor/Outdoor Temps – the temperature readings can be changed from centigrade to fahrenheit on the main display unit with an easy button press
Radio Clock /Alarm Clock – automatic time and date received through weather station DCF radio signal. Wake up to an alarm clock
2 Power Modes / Adjustable Backlight – station can be powered using an AC Mains Adaptor or with 2 AA batteries
Automatic Snooze – comes with a snooze function which works alongside the alarm clock
Backlight – brightness level can be changed for day and night-time viewing
Barometric Pressure – see the most up to date readings on the main display screen
Moon Phase – will record and display 12 various phases of the moon
What's In The Box?
1  Newentor Weather Station
A Mains Power Adaptor
1  Outdoor Sensor
1  Instruction Manual/Guide
How Easy Is It To Set Up?
The Newentor Forecast Station is easy to set up out of the box. Start by inserting 2 AA batteries correctly in the rear compartment of the outdoor sensor. Also insert 2 AA batteries in the rear of the main base unit and power up.
The weather station will light up for 3 seconds showing colorful icons on the LCD display panel.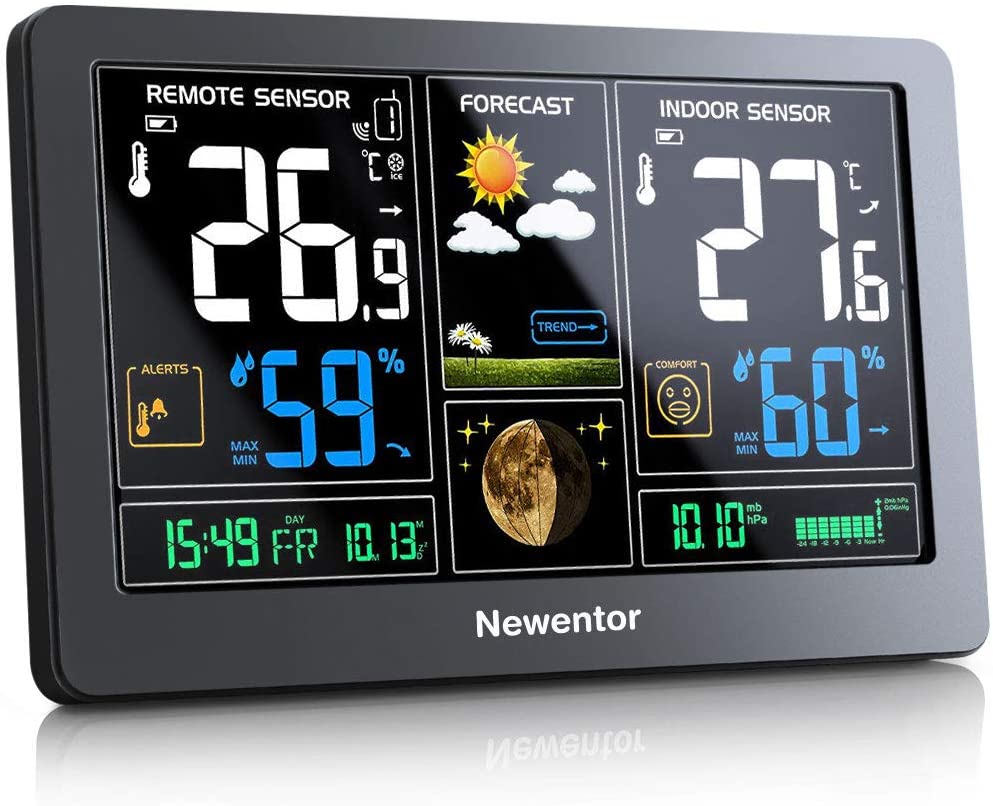 You will hear a beep tone and the base unit will begin to detect temperature and humidity readings instantly. The outdoor sensor and weather station will start making a connection lasting about 3 minutes.
A flashing RF icon will appear in the Remote Sensor area of the display panel.
Time and date readings appear instantly on the display panel as the activation period lasts about 7 to 8 minutes or so. A maximum of 3 sensors can be used with this forecast station.
All positioned within a 60 metre / 200 feet range of the main unit. Full setup instructions provided in this setup guide.
Newentor Weather Station Q3WFISUK2 Review
Pros
The Newentor Q3WFISUK2 is a feature packed weather station that is easy to setup and use in the home. It will give you the latest weather data after the product has been setup and activated.
Only requires a matter of minutes to follow the setup instructions provided in the manual/guide and to be receiving accurate data on the main display unit.
The display is a good 7.5 inches+ in size and is easy to read. With large colourful numbers and Icons providing data that is constantly updating in real time.
Three sensors can be activated and setup with this weather station giving you the most accurate weather data possible for your home environment and climate.
The main display panel has a handy back-light feature for improved visibility and the panel can be set up exactly how you like it.
The Newentor is priced very affordably and is ideal as a first time weather station for home use.
Cons 
Slight inaccuracies in temperature reading on the display panel. But this is usually as a result of not positioning the outdoor sensor correctly to record accurate weather data.
Customer Opinions
The customer opinion is very good on this one… the Newentor Q3WFISUK2 is very popular with weather watchers. It's attractively priced… and is so easy to use that complete beginners are enjoying the process of having the latest weather data direct to a colourful display panel at home.
It's a breeze to set up and you get the benefit of accurate weather data direct to you 24 hrs a day, every day… for a super low price.
Click here to read the many happy customer reviews and latest product updates on Amazon…. 
Newentor Weather Station Q3WFISUK2 Review
Verdict
In our opinion the Newentor Q3WFISUK2 is an ideal first time weather station for the complete beginner. It has a list of good features that will interest any novice weather watcher. The product is priced affordably and is super easy to set up out of the box.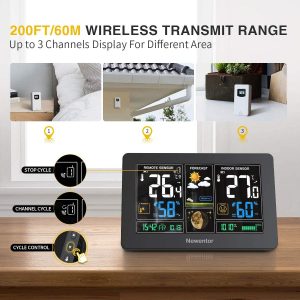 Ideally, to get the most accurate weather data possible for you, the outdoor sensor should be positioned within location range… which is 60 metres or 200 feet of the main display unit and sheltered from harsh weather.
The display panel is an ideal size at 7.5 inches.. So is easy to read and has a back-light feature for improved visibility.
A total of three sensors can be setup and used with this weather station for a more complete and accurate weather data record.
Automatic time, date and weather data is received through the weather station DFC radio signal which is constant for 24 hrs a day, every day for as long as the unit is powered up and activated.
We recommend the Newentor Q3WFISUK2 Station as a great first time product for an enthusiastic weather watcher.
Click here to buy the Newentor Q3WFISUK2 Weather Station on Amazon and get superfast delivery today….